At Fazoli's we have AMAZING Associates… and we want to tell your story!
Each month, we highlight Team Members who represent different and diverse segments of our workforce. Join Our Team & Let Your Story Begin!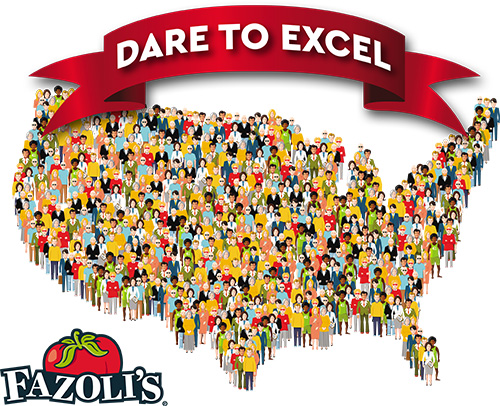 ---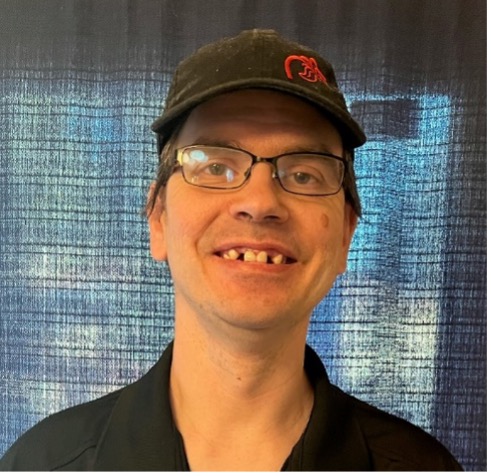 November 2022 - Lucas Buike
Hire Date:

3/21/22

Location:

5935 LaVista, NE

Favorite Dish:

Spicy Baked Ziti w/ Sausage

Why Fazoli's:

The people, the food, the environment, and ability to grow in leading

My Story:

Retired from the Nebraska Air National Guard; serving for 20 1/2 years. Deployed 4 times to assist in various operations. I Loved the experience, and have been able to use those experiences in the civilian world. Was in services (food, lodging, fitness, recreation, and mortuary), and eventually became the Assistant Dining Facility Manager in the Nebraska Air National Guard. That experience allowed me to be hired as a hourly associate manager, and from there to start the process to promote.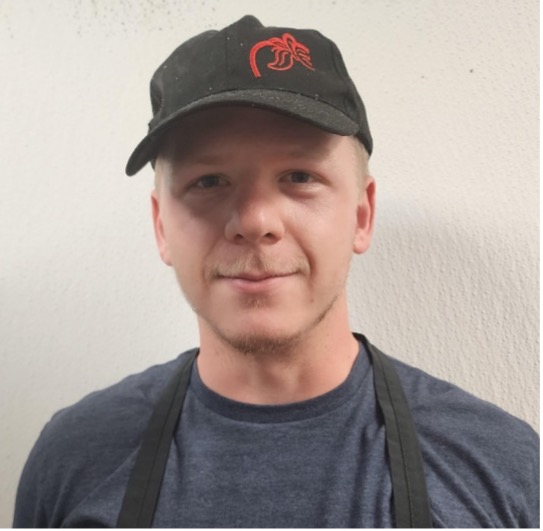 November 2022 - Grant Edwards
Hire Date:

3/9/22

Location:

5937 Oklahoma City, OK

Favorite Dish:

Fettuccine alfredo with chicken

Why Fazoli's:

Working with a quality team and atmosphere.

My Story:

I joined the National Guard in 2018, one year after I graduated high school so I could attend college at the University of Central Oklahoma with a major in criminal justice. Through my work with the Oklahoma National Guard I have had the opportunity to assist in the Hurricane Ida Relief mission to Louisiana in 2021 which I see as a highlight of my military career so far. One of the most exciting moments in my Army career is when my unit attended a rotation at the National Training Center at Fort Irwin, California. It was a challenge for sure but through the hard work of my unit we were able to get through the scorching heat and passed the exercise. The flexibility with my work schedule in regards to the days I need off for drill each month has been a massive help as well. In the coming year my unit will be deploying to Africa which will be my first deployment. As a soldier, I have been tested mentally and physically to improve myself and have applied what I have learned through the military in my daily activities whether that be in or out of the workplace.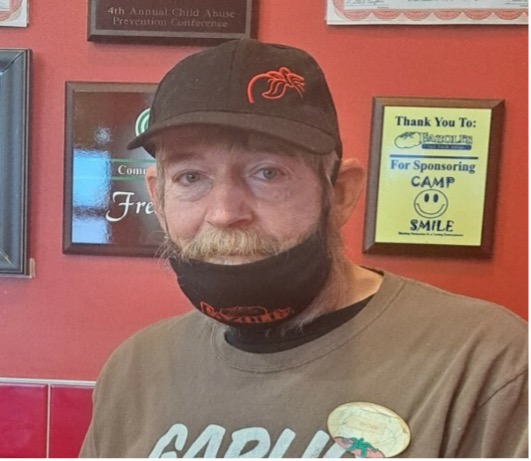 November 2022 - Don B. Young
Hire Date:

11/12/2014

Location:

5290 Morehead, Ky

Favorite Dish:

Spaghetti with meat sauce

Why Fazoli's:

The People

My Story:

Don was one of my very first hire back in 2014. Given his military background he is the best pasta cooker I've ever had! He trains as many new people on pasta as we possibly can. I never have to worry if they are learning correctly because I know they are. When not cooking pasta, he works steam and helps train those in that position as well. He comes into work in a positive mood and armed with a few jokes that he was saving to share with us.

Don served in the Army from 1978 to 1998. During that time he served as a Tank Commander and had several roles as he moved up the ranks from Platoon Leader to Assistant S3 at the Brigade Head Quarters. In 1990, he was in Iraq. He shared with me that he never saw combat but came close in the 1st Iraq War. He would tell me some stories about his time there.

Now when he isn't using his military training to train people on cooking pasta, he is rebuilding electric cars and trains in his basement. He enjoys sharing those with his son and saving some for his new grandson, Marshall Walker Young, born on September 10th.

Don has is a very valuable member of my Fazoli's Family and we love having him with us.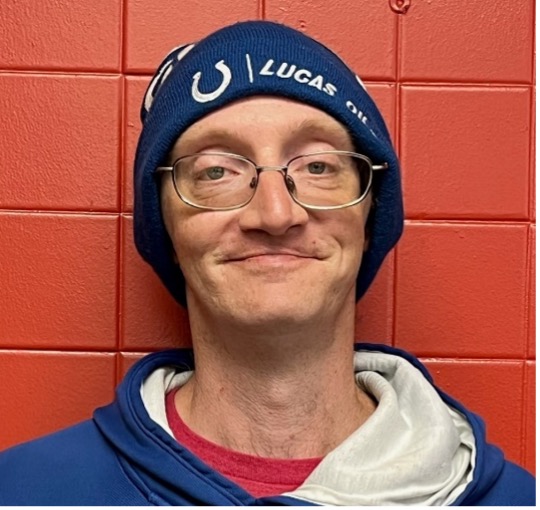 November 2022 - Charles Hart
Hire Date:

11/6/2010

Location:

1629 Muncie, IN

Favorite Dish:

Honey BBQ wings

Why Fazoli's:

Working with the people, both staff and guests, as well as the job I do in of it self. Cooking pasta, cleaning ovens, cleaning filters, and seeing what i find in the parking lot when I clean it.

My Story:

I went to boot camp in great lakes Illinois in July 2001 and graduated form boot camp in sept 2001. Due to the events of sept 2001, it was somewhat controlled chaos for about 4 years. I served on two ships, DD-989 USS Deyo and DDG-84 USS Bulkeley and was deployed once on each ship.
October 2022 - Kevin Barker
Hire Date:

12/12/14

Location:

5290 Morehead, Ky

Favorite Dish:

Varies, but spaghetti with mushrooms right now.

Why Fazoli's:

The People

My Story:

Kevin Barker has been an associate of mine (Malesa Linn) since we opened the doors in 2014. He is a very dedicated worker for over 7 years now and LOVES being Tony Tomato anytime we get the chance. Just recently, he was Tony for the Children's Advocacy where he wore the costume for 1.5 hours outside in the summer heat! He enjoyed every minute of it. He enjoys working in the dining room and talking to the kids.

Kevin lives at home with his mom and helps take care of her. He is a dedicated church member and is always willing to help out in the community. His love for Fazoli's and for Morehead is unquestionable and I value him as a part of my team forever. A 51 years old Rowan County native, he is known and loved by the entire community and I'm very proud that he calls Fazoli's his home away from home!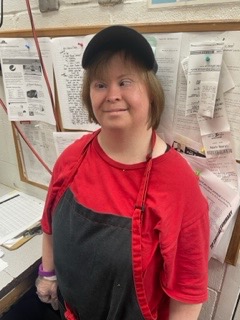 October 2022 - Rebecca Buelo
Hire Date:

4/3/2000

Location:

1631 Kokomo, IN

Favorite Dish:

I love the penne noodles with meat sauce and meatballs.

Why Fazoli's:

I enjoy working with my co workers and they are family to me. I lost my dad and my Fazolis family supported and comfort me and my family during that time. Most of all I have guest comes to Fazolis just see me work. I enjoy seeing on a daily basis.

My Story:

I have been working for Fazolis for 22 years. I have learned a great deal at Fazolis. It has helped me overcome many challenges. I have become more independent and able to do more things on my own. I have great leadership and will continue to learn more from them.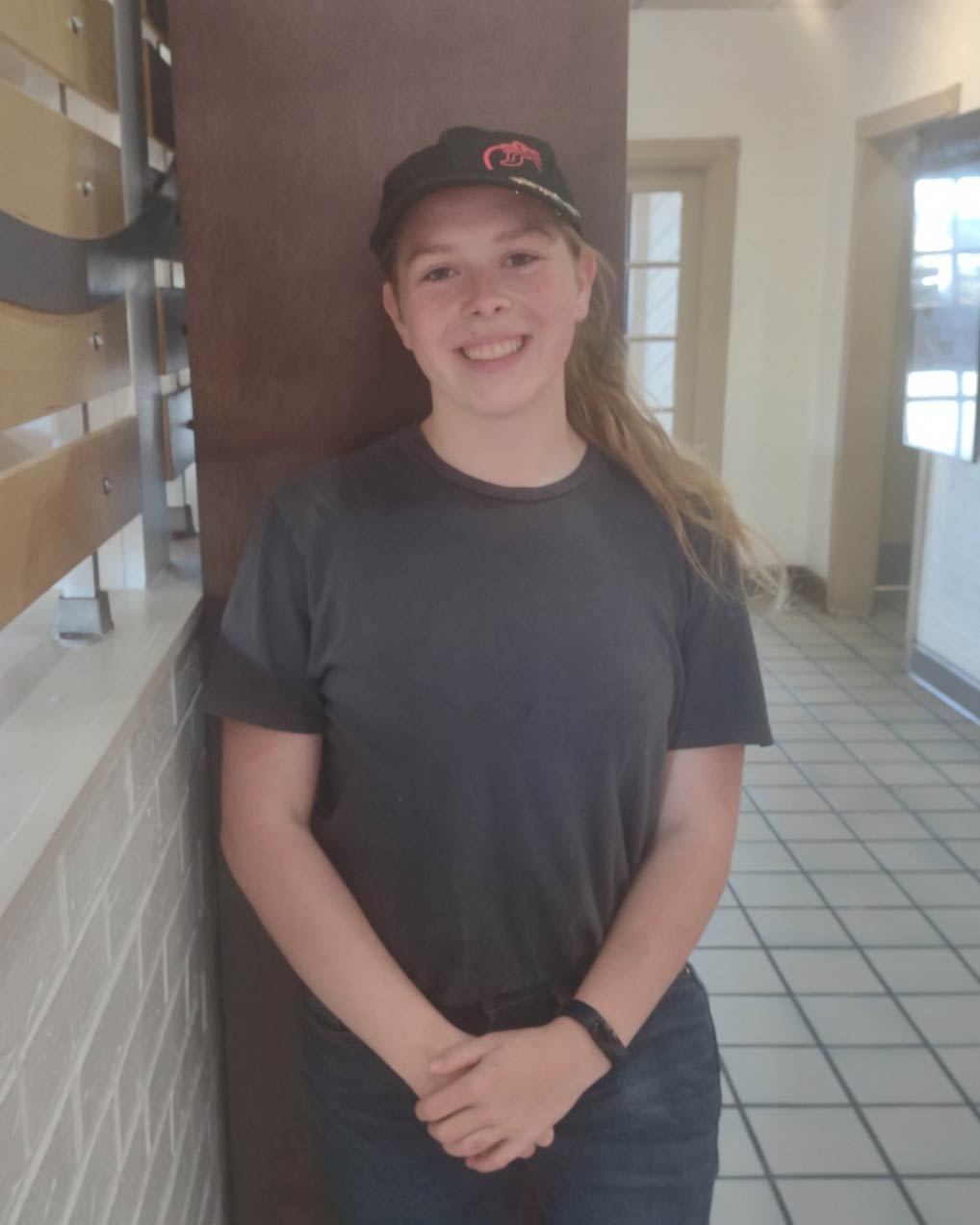 October 2022 - Cali Prochaska
Hire Date:

5/11/20

Location:

5909/Stellhorn Rd-Fort Wayne, IN

Favorite Dish:

Spicy Ziti with Sausage

Why Fazoli's:

The people...the ones I work with and the ones that come into the restaurant.

My Story:

You could say that I have grown up around Fazoli's, my parents both work for the company. My home store is Stellhorn Road in Fort Wayne, Indiana, but I also help out at the Coliseum location when needed. I have worked at Fazoli's for a little over a year. I started during the pandemic when the YMCA that I worked at halted swim lessons. I was born with Proximal Femoral Focal Deficiency, or PFFD, causing me to be missing my hip, knee, and femur and my left side. I had surgery when I was five and have always walked with a prosthesis. I like the friends that I have made at both locations, it is nice to work at a place where you can also have fun. I also appreciate the flexible schedule. I keep busy with college classes, swimming, and coaching young swimmers. It is nice to have a job that works around other activities. I am studying Biology at Purdue-Fort Wayne with plans to go into Sports Medicine or Physical Therapy. I train year-round with a local swim club and am also rostered to the Team USA Paralympic Swim Team. I placed 4th at the Pan Am Games in Lima , Peru ...just off the podium and have swam in Canada, and stateside have been to Cincinnati and Indianapolis multiple years as well as Colorado, Texas, and Arizone with my next trip being to Tijuana, Mexico in October for another Para World Series event; so again I am grateful for the flexible schedule.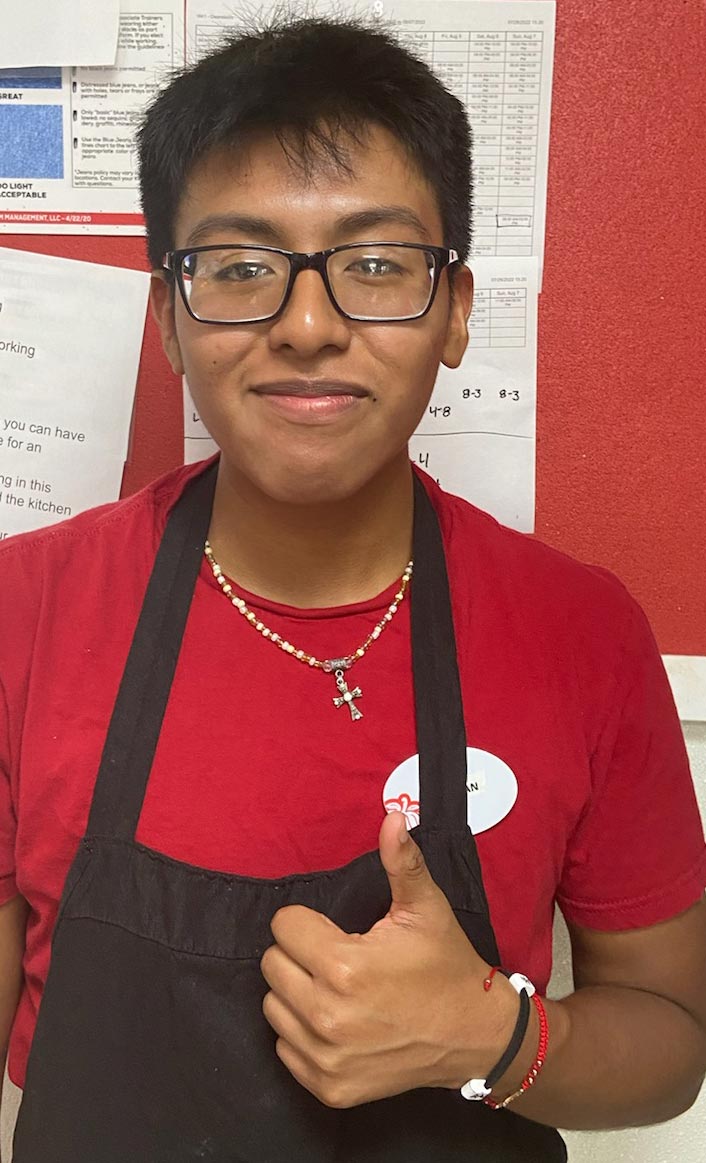 September 2022 - Johan Carrillo-Rios
Hire Date:

4/15/22

Location:

1641 Owensboro, Ky

Favorite Dish:

Classic Sampler

Why Fazoli's:

The people here they make me feel welcome and make me feel like a family.

My Story:

Well I'm 16 I box and I always wanted to work at a place where I can enjoy and be welcome to so I decided to come to fazoli's. I heard great things about it and I applied and got the job the first day is where I felt welcome everyone was nice to me and the managers and workers made me feel like a family and ever since I been loving to work here.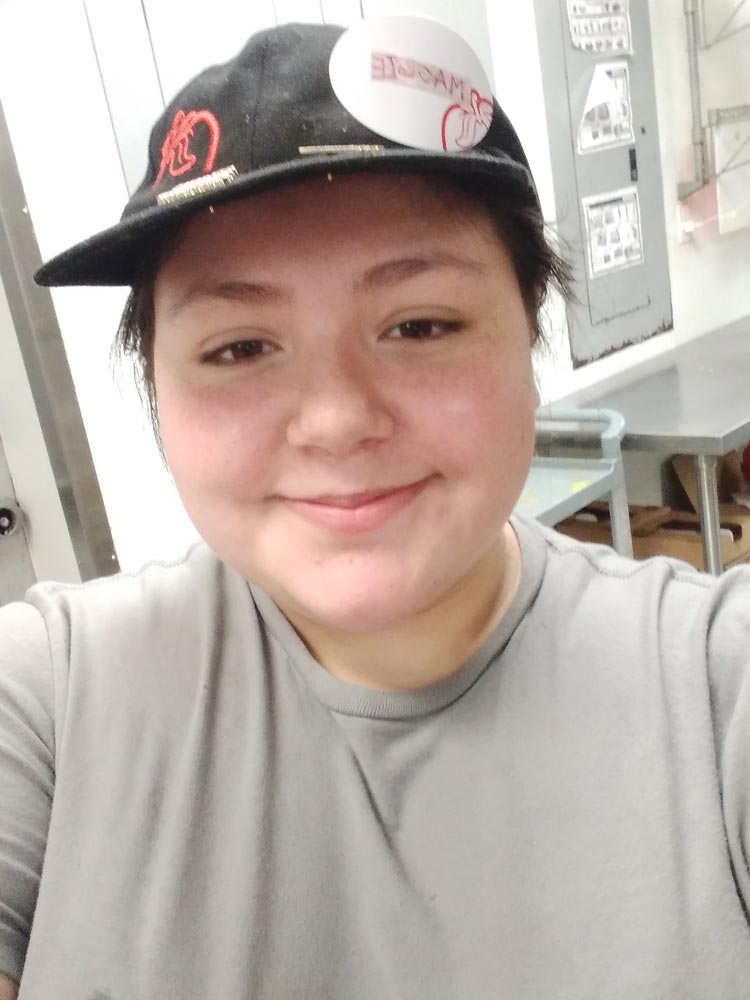 September 2022 - Margarita Cashion
Hire Date:

9/24/21

Location:

5289 Murray, KY

Favorite Dish:

Spicy Ziti with Chicken

Why Fazoli's:

I love working with my crewmembers; We are more than just a team, we're an amazing family!

My Story:

I started working at Fazoli's when I was in a really rough place. I was between homes and I was trying to set my life straight. I started working washing dishes, and as I got more familiar with the work environment I slowly began to transition into the kitchen. Currently, I am the main steam line operator for the evenings. Everyone here at 5289 has become like a second family to me, and it makes the restaurant feel like a second home.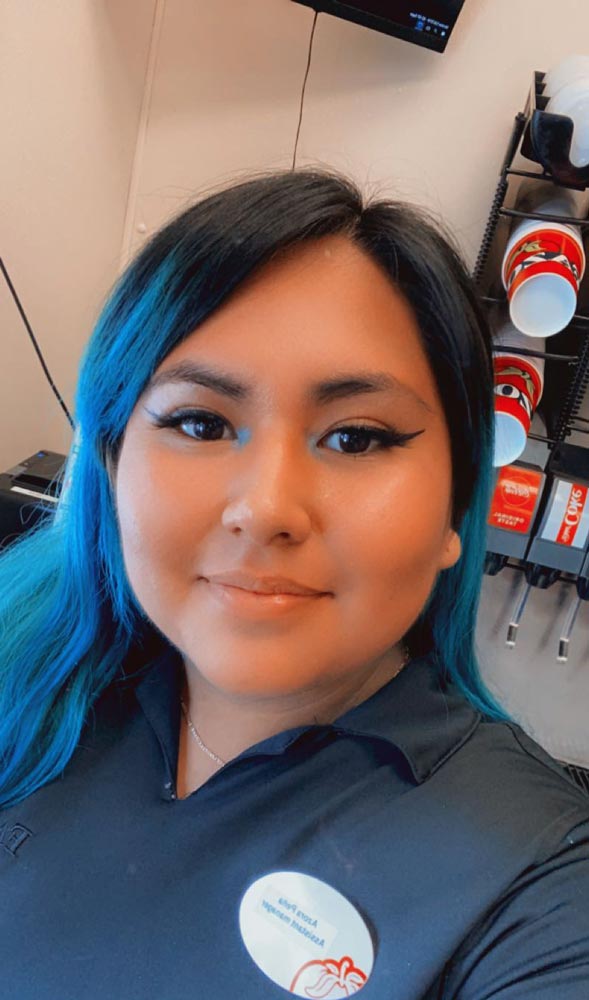 September 2022 - Leslie Pena
Hire Date:

2/22/22

Location:

5337 Plant City, FL

Favorite Dish:

Meatball da Vinci

Why Fazoli's:

What I enjoy the most about working at Fazoli's are the great opportunities one receives as well as the atmosphere and hospitality of the restaurant and crew members.

My Story:

I started working for Fazoli's when I turned 16. I applied at Fazolis because I wanted to be able to take a burden off my mother as she was the only one maintaining the bills for years. As my mother is not from the United States I wanted to make sure her money went towards herself, the bills, and my siblings. Seeing how hard my mother worked to give my siblings and I everything we ever needed. She gave me the encouragement to take after her. My first couple of weeks working I was a dishwasher, but then quickly started to train on steamtable. I worked for the company for about a year until one day my General Manager, at the time, said that they would be relocating. As I was only 17 when this happened, I was unfortunately not able to continue working for them. As a year went by, I noticed that the building where Fazoli's used to be before the relocation was being remodeled. I didn't think much of it, in all honesty I thought someone else would've bought the property and now is remodeling the place for a new business. As my curiosity got the better of me, I learned that Fazoli's was back. Not under the same owners, but they were back. My heart sank as not to believe the news. As I started paying more attention to the restaurant, I found myself standing outside looking at a "HIRING NOW" sign. As I was about to take my leave, I heard a voice behind me. "Are you looking for a job? We are hiring." This day lives vividly in my mind. The day destiny intertwined me back to where I belong. I applied, trained, and worked for a few months. Slowly realizing that school was coming to an end. As I turned 18 and graduated the new owners of the Fazoli's gave me the biggest opportunity. Now I am 18, graduated high school, and the newest addition to the management staff at Fazoli's. As I continue to work for the company, surpassing challenges bigger than I ever thought I would be able to conquer. I am now proud to say I am grateful for the opportunities I was given, and for the ones I have taken. That have shown me not to give up and keep pushing forward.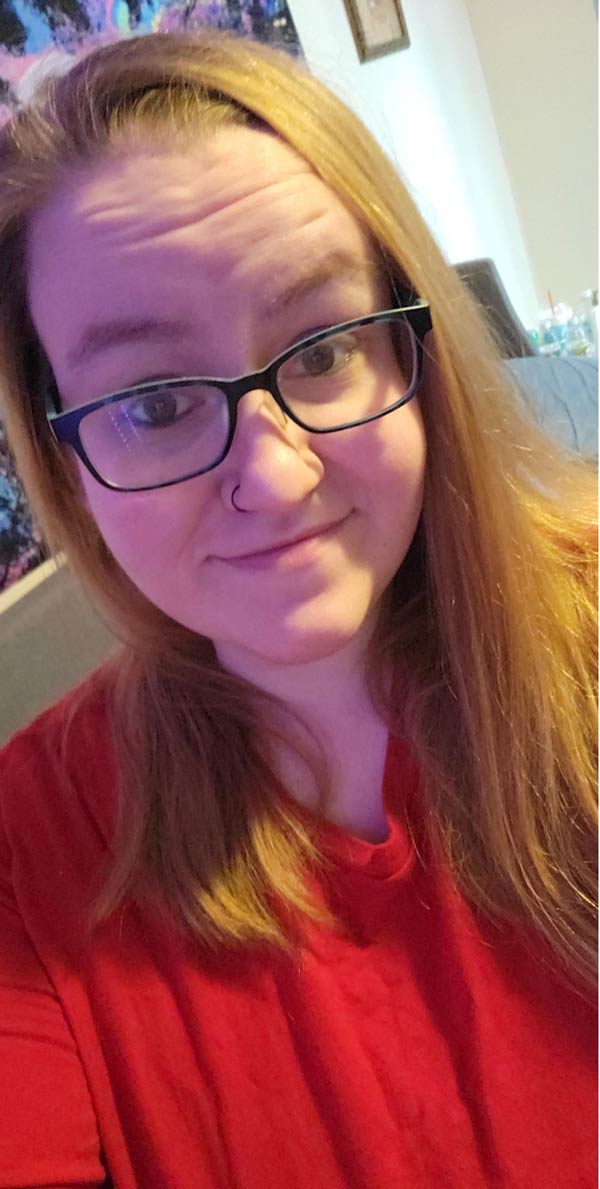 August 2022 - Stephanie Parks
Hire Date:

6/12/12

Location:

1806 Jenison, MI

Favorite Dish:

Baked Ziti

Why Fazoli's:

I love meeting new people and building connections with my team members, and regular guests.

My Story:

I started working at Fazoli's part time while I was taking college classes. After a year and a half working as an associate, I was promoted to Associate Manager. In October 2019 I was promoted to General Manager, and took over my store. Within my first year as GM I had a car crash into my building, a global pandemic shut down and experienced a change in ownership when my franchise owner sold the store to corporate. In the time since my team and I have beat 5 sales records, and brought our store from the bottom of the Balance Score Card, to the top. Our store was #1 in the company YTD last month, even though we did slip to #2 this month. I have met and mentored many people through out the years and can genuinely say I enjoy working beside them.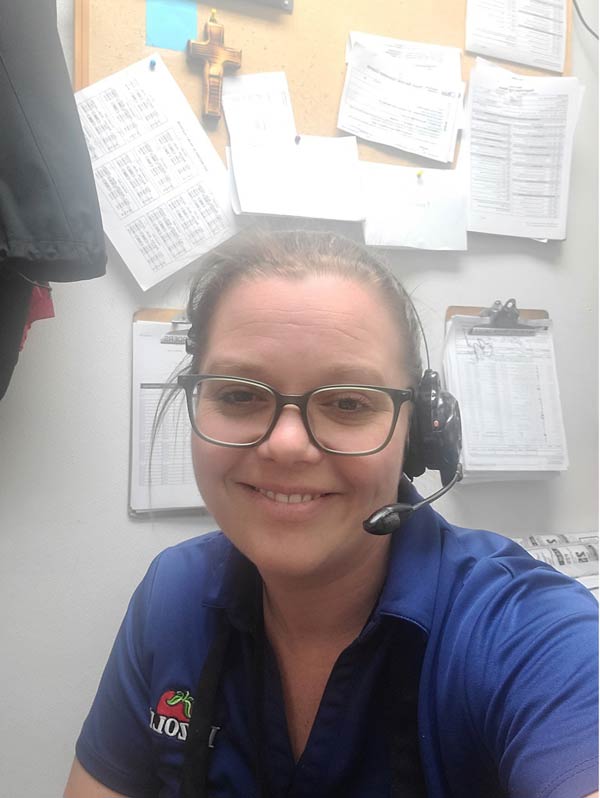 August 2022 - Cassy Bailey
Hire Date:

8-30-05

Location:

1671 Bellefontaine, Ohio

Favorite Dish:

Old school baked ziti, with some pepperoni.

Why Fazoli's:

Being able to develop a team to be the *best* at what we do. Teaching people who have never had a job how to be the best they can be. Showing people that we are a team and when one succeeds we all succeed. We have fun at work! Not every day, but most days. We laugh, we smile and do our very best to make peoples day just a little bit brighter. One breadstick at a time.

My Story:

This was my first job. I closed the drive thru for a couple years until I was old enough to promote. I worked hard and became the GM and then a senior GM. People come and go but the guests stay the same. If you take care of them they take care of you. We set up tables for our regulars on their anniversaries and birthdays to make them feel like part of the Fazoli's family. This place has taught me so much about business, management, people skills and life in general. I have grown as a manager and as a person here. #17yearsandcounting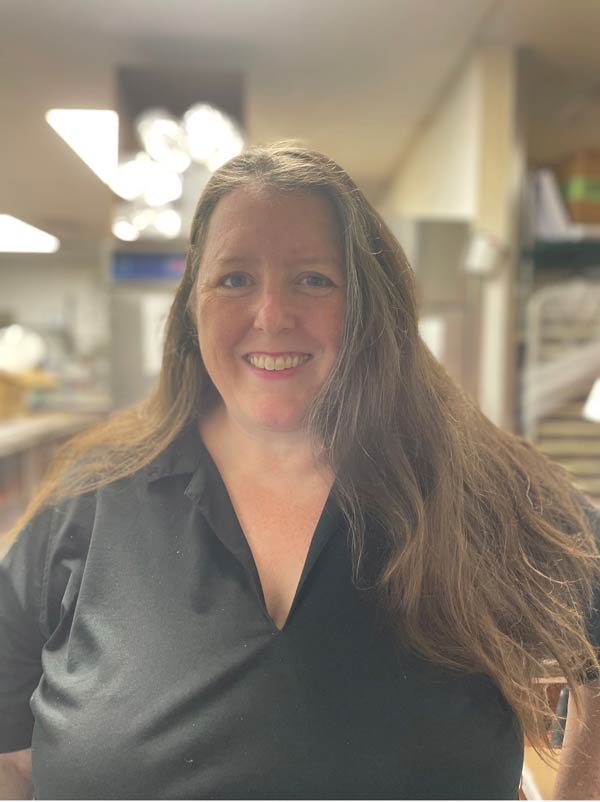 August 2022 - Heather Rehbein
Hire Date:

06/06/2006

Location:

5936 Eau Claire, WI

Favorite Dish:

Baked Spaghetti is my favorite; but when the Lobster Mac and Cheese comes back, I cannot resist! :)

Why Fazoli's:

Fazoli's is my second family. I've gotten to meet so many wonderful people since I started at Fazoli's. At work they call me their "Momager." Over my 16 years I watched co-workers that I hired as high school students grow up and get married and start families of their own. I've even had several people that have met their spouses working for me at Fazoli's. One couple currently has their first child on the way! Even though neither one of them work for me anymore, they are still regular guests; I guess we have another Fazoli's fan in the making!!
I love the family atmosphere not only within our team, but also with our guests. I've seen kids that participated our Kid's Night Activities grow-up and before you know it they're old enough to become regular guest's driving their friends here for lunch during their school lunch hour. I've also dad the opportunity to hire some of our regular guests, they have been fantastic members of our team. I have lots of older guests that escape our bitterly cold winter Wisconsin winters and head south for several months, when they come back it's like having a family reunion in the spring!
For me, it's all about the people. The relationships I have built over the years are what keep me motivated. It's one of my selling points when I'm interviewing candidates. I love my Fazoli's family.

My Story:

After graduating from the University of Wisconsin Stout in 1998, I worked for a burger franchise for several years. I worked my way up with them to an Area Supervisor role, but being a vegetarian at the time, I knew that it probably wasn't going to be my final career choice. I found myself looking for another company that aligned more with my lifestyle and had a strong emphasis on work/life balance. I saw an recruiting ad for Fazoli's on a local job website and decided to give it a try. My husband and I loved the Cheese Pizzarino Combo.

Needless to say it was a great interview! I was hired as an AGM and started learning all about pasta. I noticed right away what a great reputation Fazoli's had in our community. Whenever I would tell people about my new job they'd instantly reply with "Oh... I loooovvve Fazoli's." I have a lot of pride working for a company that gives back to their neighbors.

I took every opportunity that was presented to me including trips to Lexington to become a certified trainer. I also became a dual role ServSafe Instructor and Proctor early on in my Fazoli's career. As a result I have gotten to meet leadership teams from other restaurants in our Wisconsin districts and other states. Even during the height of the pandemic I figured out a way to hold online ServsSafe classes so we could continue to develop our management teams safely. I have also been able to travel to other restaurants to help out, this has allowed me to meet even more of my Fazoli's family.

Fast forward several years, I was promoted to General Manager of the Eau Claire Fazoli's. I really enjoy managing one of the busiest locations in the company. Every day I get to meet new people and connect with our guest. I do "get recognized" when I'm out and about, it makes me feel like a celebrity sometimes! I am so glad to have had an impact on so many lives in our community. It's been a great 16 years and I am looking forward to whatever comes next with Fazoli's!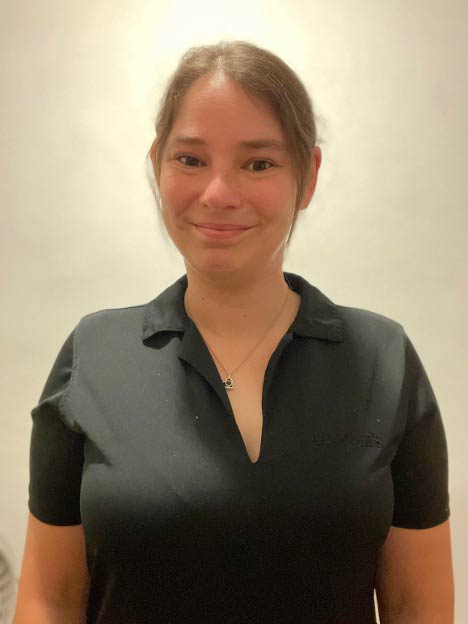 August 2022 - Mackenzie Kettelhake
Hire Date:

11/04/2011

Location:

5903 Alton, IL

Favorite Dish:

The Wings

Why Fazoli's:

The team I work with, the flexibility, and the benefits they offer that help with higher education.

My Story:

When I was 17 and still in highschool I applied for so many different jobs, trying to get my first steps out in the workforce. One day at the begining of November in 2011 I finally got a call for my first interview and that was at Fazolis. I was super excited when I got that call, and after that interview I was offered a position which I eagerly accepted. What I didnt know at the time was I was starting a job that I would continue to work at for the next 10 years. After graduating highschool in 2013 I was offered a management position. At the time I was also starting to take classes at the community college to pursue a degree in nursing. College ended up taking longer to complete than expected but one thing that always stayed consistent during that time was my job at Fazolis. Now here I am almost 11 years later and less than a year away from finishing my nursing degree. Fazolis has been a great place to work for so many different reasons. The biggest reason it has been so great is because of my bosses Patty and Kitty, they have been there for me ever since I started, and they have always been so encouraging and supportive. They were there for me through some of the best times in my life like when I had my daughter in 2016, and they were there for me through some of the worst times of my life like when my brother unexpectedly passed in 2017. Aside from Kitty and Patty I have had the opportunity to work with and meet hundreds of other people who also have made the experience of working here better. The people you work with really do become a second family after spending so much time with them. Some other reasons Fazolis has been such a great place to work is they offer employees including their managers textbook reimbursement for higher education and as a single mom trying to get through nursing school this has been an amazing benefit. Fazolis has also offered me flexibility in scheduling by working around my school schedule which is a benefit that not all jobs can offer. Lastly Fazolis has taught me so many work related skills that I will continue to use even after I start my new journey soon as a registered nurse. Trust me when I say I had no idea this would be my journey so far in life when I walked into that interview 10 and 1/2 years ago but I'm glad it did. Thanks Fazolis!
---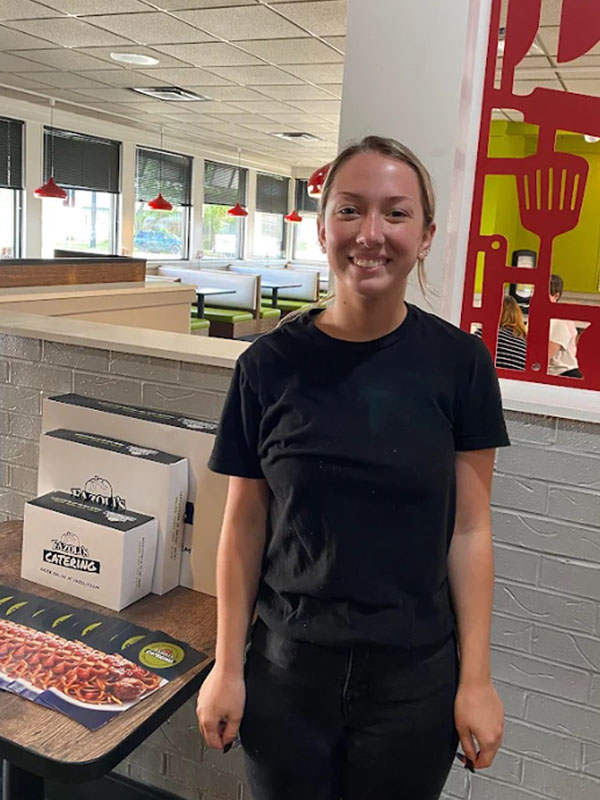 Welcome to the Workforce - Fazoli's is their very 1st job.
July 2022 - Amber Hatfield
Hire Date:

8/26/2020

Location:

5005 - McKenzie Enterprises, Huntington, WV

Favorite Dish:

My favorite dish at Fazoli's is our mozzarella skewers! I was very excited when we first introduced them last year and I haven't been able to get enough!

My Story:

Seeing as though Fazoli's is the first job I've ever had, I walked into it slightly blind and unsure of what to expect. Throughout my time here, however, it has turned out to be the perfect place and I am pleased with the outcome! I couldn't have asked for a better introduction into the workforce. Here at Fazoli's, I have learned the importance of leadership through my management position, I have learned how to handle people more efficiently through guest service, as well as learning how dependable the employees here can be. All three of these aspects are extremely important for the sake of teambuilding and the functionality of Fazoli's as a whole. Overall, this has been an incredible first job and I am more than happy with my decision to be here!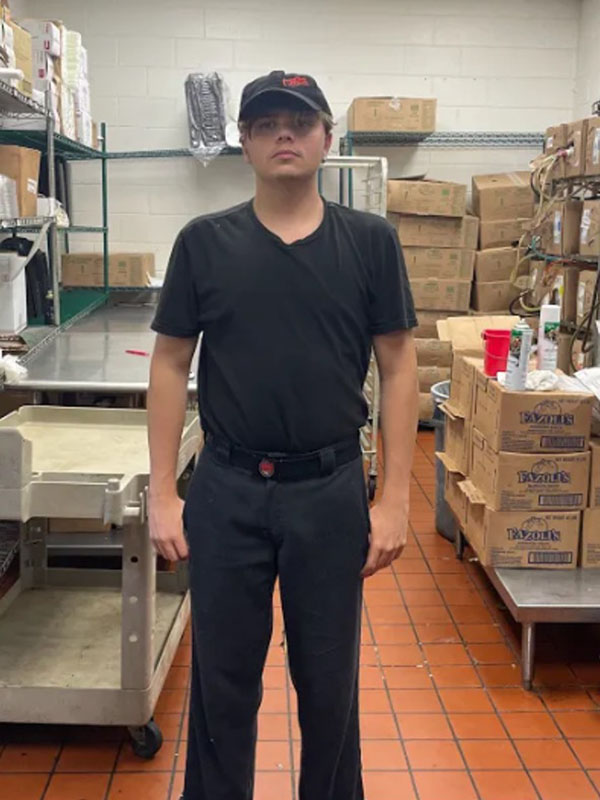 Welcome to the Workforce - Fazoli's is their very 1st job.
July 2022 - Alexander Baxter
Hire Date:

3/7/2022

Location:

1631 - Kokomo, IN

Favorite Dish:

Lasagna

My Story:

I was nervous at first but once I started working and getting the hang of it things got easier. It is a great learning experience. This job has taught me work ethic, how deal with our guests and resolving issues before they occur. My Manager tells us to say "yes" to the guests. So that is what I do on a daily basis. Being in the front of the house, this position has taught me how to be more outgoing to the guest. I can be very creative, and I have improved my skills to solve problems. I would highly suggest that this job should be everyone first choice.